#EdStory - a platform for stories about education and learning
Role: Lead UX Researcher & Designer

within a cross-disciplinary team of UX and Web (front and back-end) development, responsible for the UX of the project and communication of our work.
Tools:

Adobe Photoshop, Axure, Carl Zeiss VR One AR Goggles, GitHub, Keynote, Kolor Eyes 360 Video Platform, Ricoh Theta M15 Camera, Sketch, Sublime Text, Survey Monkey, Sharpie Pen and Paper, Usability Testing Kit (self compiled)
Client: USA Today is a national American daily newspaper published by the Gannett Company. Founded in 1982 by Al Neuharth, the paper is distributed in all 50 states, the District of Columbia, Guam, Puerto Rico, Canada, and the United Kingdom, and maintains the distinction of being the most widely circulated print newspaper in the United States.
Challenge: A group from USA Today presented their recent history of "digital interactives" and then invited teams to design a tool for storytelling, to be presented internally in 5 days time. Our team was comprised of 3 WDI (web development immersive) members and myself.
Outcome: Our team created a content pipeline for accumulating stories about education/learning that could be used to populate a USAToday style "digital interactive." Through quickly designing and deploying a survey instrument I validated our topic/scope and gained insight into key usability features of our solution. I developed personas to explore user flows and to communicate our product in presentation. I then designed and developed a prototype of the "digital interactives" version of EdStory that was responsive, appropriate in tone to previous USAToday "digital interactives", and effective in allowing discovery and consumption of our stories.
DISCOVERY
User Surveys
I deployed a day one survey to collect data regarding a number of inquiries. Our primary goals were i.) to validate people's interest in stories relating to education/learning ii.) to tease out information relating to topics of interest within the scope of education/learning and iii.) to learn what people prefer in terms of directing a short narrative response.
i.) Survey results demonstrated that peoples' interests were varied with tuition, college/university, and adult education as leading topics. We received strong validation of education/learning as an interest center. 78% of respondents provided an explicitly negative response when prompted (question: Please share what you believe to be the state of US learning/education.) This indicates emotional investment in the topic. A non-response rate of merely 6% added more evidence that EdStories could provide compelling content.
ii.) The survey prompted "If I asked you tell a story about you and education/learning - what would the story be about?" Responses were varied, but 4 core categories emerged as often repeated: volunteering, vocational training, interpersonal relationships, and cultural learning/exchange.
iii.) The survey revealed that a majority of people preferred a balance of freedom and prompting when asked to provide a narrative response (as opposed to either no prompting or heavily directed prompting.)
Persona Creation
I developed personas based on the data collected from the survey instrument and our intended use cases.
User Flows
I created user flows for these personas that demonstrated how each would make use of either a desktop or mobile implementation of the USAToday style digital interactive content.
Sketches
Our team sketched screens for the intended user flows separately to visualize how each of us were addressing the unique user needs based on our earlier research. We then compared and discussed our sketches together to determine cohesive integration of our ideas.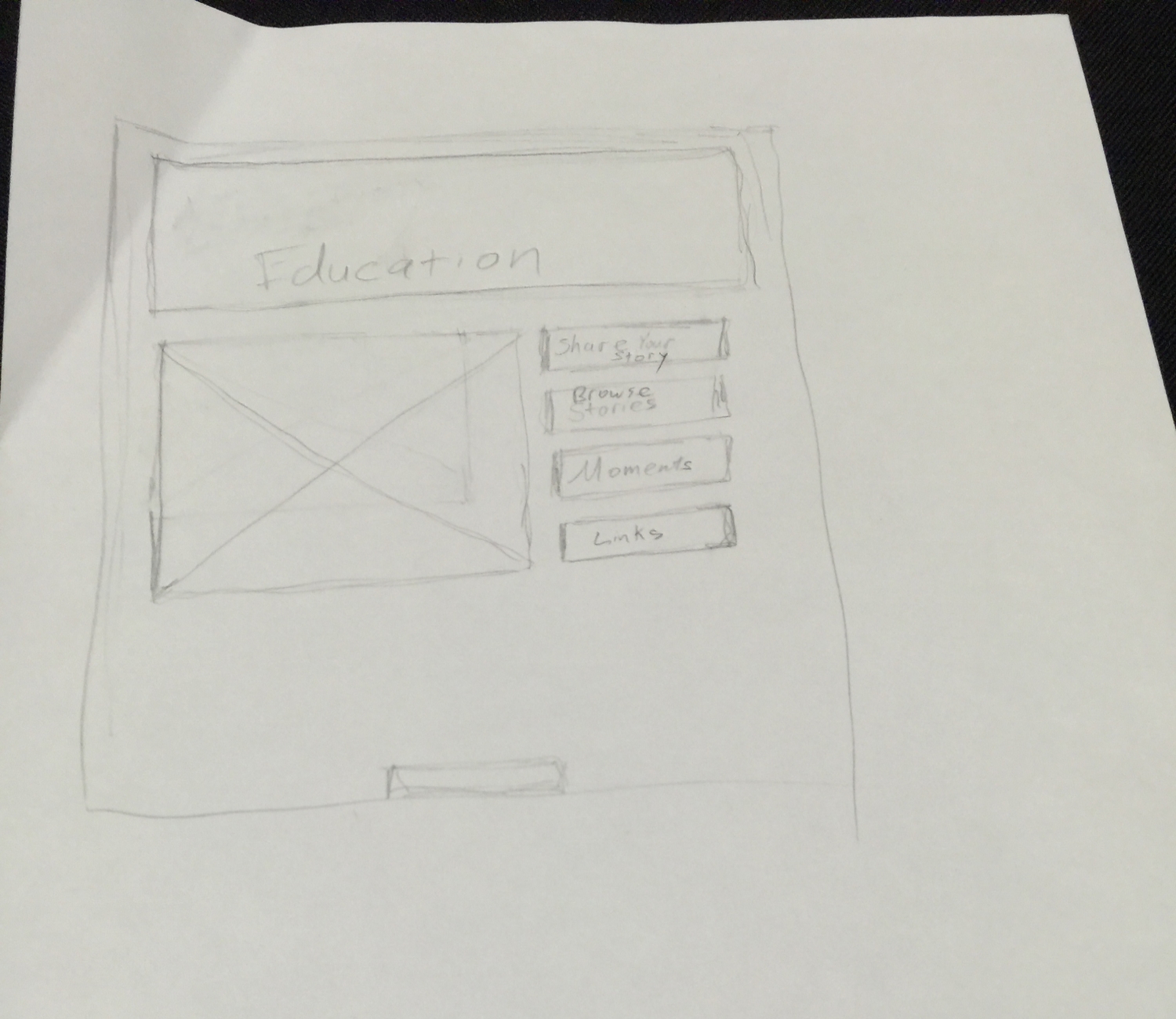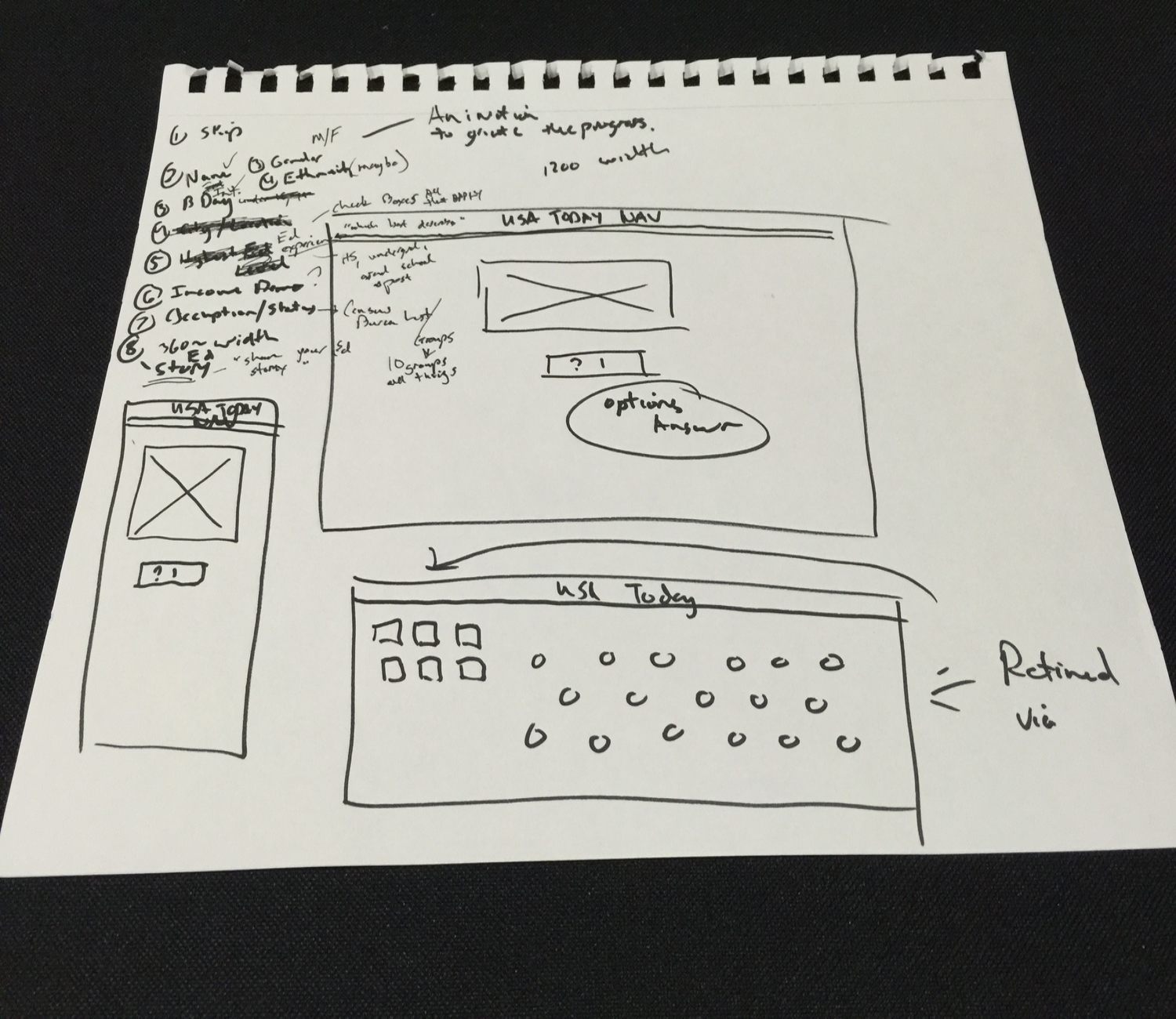 As a team, we chose to pursue split approach, developing a standalone site that generate the stories/content through user submission and a portal for consumption (desktop/mobile layouts) that could serve as an integrated/persistent USAToday digital interactive feature.
Prototypes (click each to explore)
Desktop Prototype Mobile Prototype Standalone Content Generation Site
Usability Testing
I conducted usability tests throughout the development of my prototypes (digital interactives split). Some of the changes I implemented based on the feedback received were:
Iconographic representation of sorting categories rather than limited legibility text (desktop)

Less = more, when it comes to sorting options, too many options led to user cognitive freeze/overload (both)

Increased text size to ensure legibility (mobile)
THE OUTCOME
Please view our group presentation to the USAToday panel and General Assembly UXDI/WDI cohorts.
THOUGHTS ON WHAT WENT WELL AND WHAT DIDN'T
This was a fantastic opportunity to learn about working with a development team under significant time constraints, and further how "constraints" (whether real or perceived) can impact the focus and will of team members. After identifying and communicating a set of project expectations that did not connect to user need or functionality, our team framed our strategy within the scope of delivering a solution that not only met the academic constraints the developers felt, but also one that expanded the concept in a manner that presented an incorporate/valuable vision of how the platform could function as a "digital interactive" under the USAToday umbrella.
The value of carefully examining how to present the narrative of the research phase, in terms of validating direction and scope of a project, was emphasized during feedback of our team presentation.
Other Selected Works