Role: UX Researcher & Designer

within a three person UX team responsible for meeting the goals of the project and communicating the methods used to do so.


 
Timeline: 9 Days
 
Tools:

Adobe Photoshop, Adobe Premiere, Apple Quicktime (Screen Recording), Axure, GotoMeeting Teleconference, Omnigraffle, Rogue Amoeba Audio Hijack Pro, Sketch, Sublime Text, Survey Monkey, Sharpie Pen and Paper, Usability Testing Kit (self compiled)
Client: At Linked Senior, the mission is to enhance life in senior communities. They support resident-centered wellness and programming by using simple technology. Linked Senior provides a simple, scalable, effective and affordable platform to engage all residents enabling collaboration among staff members and residents' families. The product is a cloud based system that delivers content to help the staff at the nursing home engage residents. The current resident facing product was designed in 2011 and currently services over 30,000 seniors at more than 200 buildings.
Challenge: To design an updated menu and navigation system. Our solution needed to be "designed for people over 70 years of age, be simple to understand and effective at finding content quickly, and needed to look good for potential customers and investors but not be so slick as to be intimidating to seniors."
Outcome: Our team met and exceed the expectations of the initial scope by delivering a valuable design for future implementation. Through comprehensive discovery work I identified that our design needed to address a diverse group of unique users (activities staff, nurse/therapist, family and resident) rather than residents alone. Further discovery work included survey instrument design and deployment, research analysis of best practices re: design for aging populations, and persona development. Finally I helped shape our communication and messaging to our client and stake holders through presentations throughout our process.
DISCOVERY
User Surveys
I deployed a survey instrument to collect data regarding a new user path that has not traditionally been one utilized/sold by Linked Senior, that of the therapist/nursing staff. Some of the instrument data also yielded better insight into present user paths. Below are word clouds and bar graph visualizations I created to better communicate the data collected to stakeholders.
Among many observations the survey instrument demonstrated
i.) that staff members needed to "know" the residents to be able to engage with them, this insight drove our choice to emphasize popularity/use data in content selection within the app (the idea being Linked Senior could provide an effortless way of "bettering knowing" the residents by allowing ease of content discovery through usage tracking and popularity sorting via resident
ii.) that staff members needed to "see"/have evidence that their work was having a meaningful impact on the quality of life of the residents, this insight drove our choice to further build out resident engagement statistics that would not only provide staff with the ability to "see" the difference they were making in the lives of the residents but also as a method of demonstrating efficacy of the facility for state certifications and as a sales tool for future residents
iii.) that 1.) medication administration 2.) physical therapy 3.) social services and 4.) dietary counseling are seen as having the "most importance" for geriatric resident/patient care, while also being rated as posing the greatest challenges in terms of delivering these services (the exception being that physical therapy fell from rank 2 to rank 4 in terms of challenge delivering) - this information suggested that these use cases should be the focus of building out this staff feature in the future peoples' interests were varied with tuition, college/university, and adult education as leading topics. We received strong validation of education/learning as an interest center. 78% of respondents provided an explicitly negative response when prompted (question: Please share what you believe to be the state of US learning/education.) This indicates emotional investment in the topic. A non-response rate of merely 6% added more evidence that EdStories could provide compelling content.
Current Version Usability Testing and Site Mapping
We conducted an audit of the current Linked Senior app (Libex) with an emphasis toward analyzing the information architecture (IA) and other existing properties that could point to potential design iteration opportunities. Observations included
i.) that content offerings/categories were being driven based on the history/evolution of Linked Senior from its origins as an audio hardware based offering and
ii.) that many levels of hierarchy were standing between the user and access to the primary content types (never less than 4 levels of selection and often upwards of 7 or more hierarchy selections before reaching actual content)
Defining Target Users and Persona Creation
I developed specific personas based on the data collected for the purposes of i.) ensuring our design choices met unique user needs ii.) allowing us to make universal design choices that didn't constraint or create pain for any of the unique user types and iii.) provide a clear and effective narrative framework to communicate our design solutions to our client.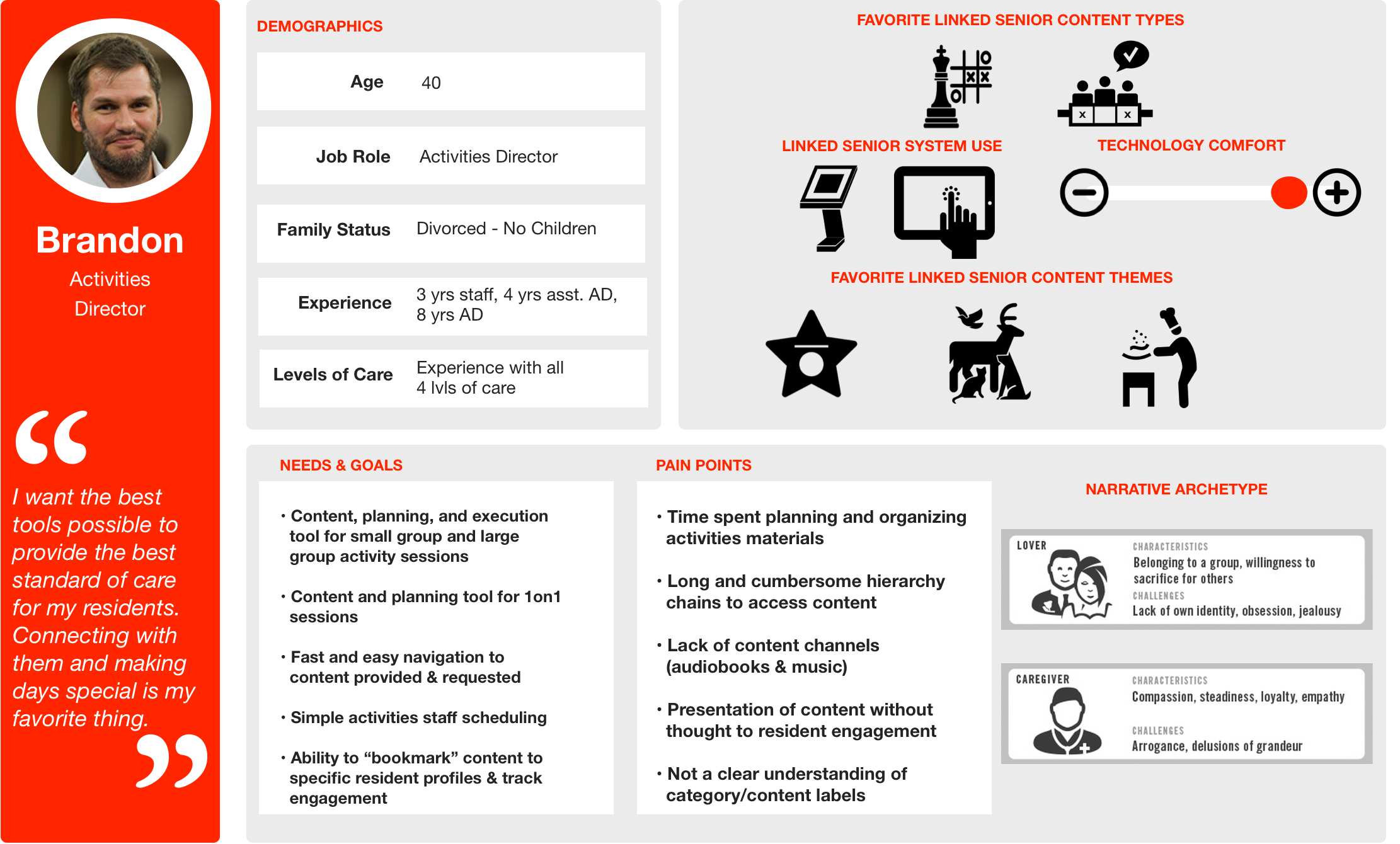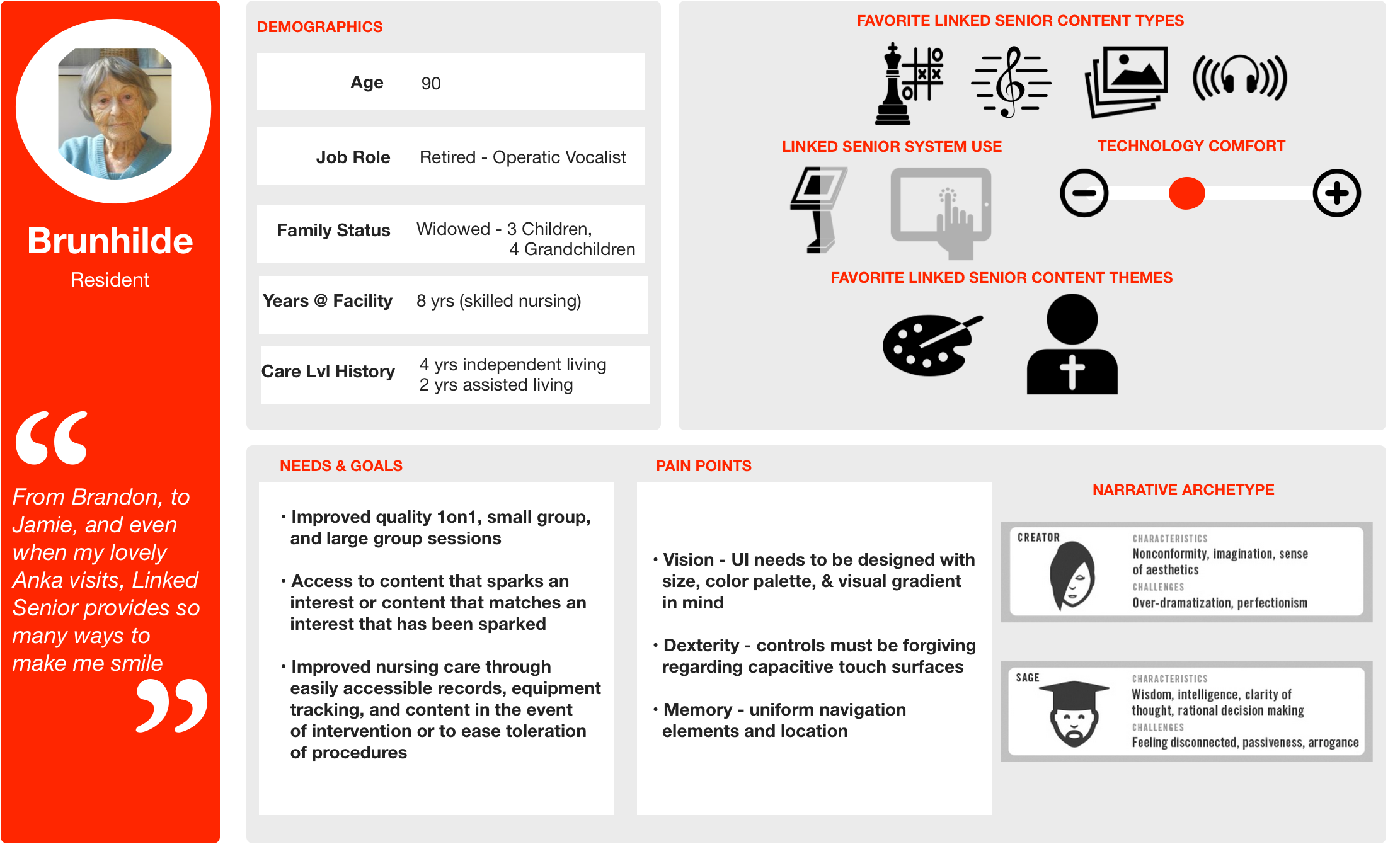 User Journey Maps and Flow Analysis
I further developed specific journey maps based on the user personas. Ultimately our team collaboratively decided that we needed to more quickly/directly communicate our design flows than these tools would allow, so I abandoned them as deliverables at ~85% developed.
Best Practices for Designing for Aging Users
I reviewed extant research regarding designing for and use concerns for aging users. Despite finding a number of meta-analysis projects (ranging from the mid 1990s to ~ 2007, citation for works considered may be found in our Keynote client presentation deck) I found the greatest value in branched research path that drill down to "coaching programs" for aging populations use of technology. This research line was most valuable due its the inherent cycle of i.) identify pain points ii.) formulate possible solutions iii.) test the proposed solutions iv.) report efficacy and iterate - very UX! Here are some of the main points of focus gleaned from the research analysis:
IDEATION
Affinity Mapping
We took key findings from our research and organized them into behaviors, pain points, needs, and features and solutions to begin the process of narrowing our scope.
DESIGN
Design Studio
We enjoyed continually engaging in discussion and debate of aspects of our solution and what solutions could best meet our goals with the least sacrifices. Though taxing, each instance of critical analysis brought about meaningful advancement of our solutions and our excitement for the continually evolution of the quality of designs was palpable.
Sketching and Wireframing
We did a series of rough sketches to determine ideal layouts, features, and concepts for the site, apply the findings from our research to potential solutions, and ensure the cohesive integration of our ideas.
Prototype
We combined our sketches to build our wireframes and prototype in Axure.
Libex/Linked Senior 2.0 (click to explore in html)
THE OUTCOME
Please view our client presentation to Jeff Moore (CTO, Linked Senior)
THOUGHTS ON WHAT WENT WELL AND WHAT DIDN'T
This was a very successful project, resulting in exceedingly the client's expectations and honestly, scope, but with positive consequences. Despite very limited access to testing with actual users, we were able to validate our choices and provide a narrative that communicated why and how we came to the choices we did. We provided validation, evolution and valuable iteration, and an opportunity for reassessment and refocusing.
Our team was composed of deeply caring and highly analytical members. We highly respected one another and throughout the process felt fortunate to be working together and to be working on a project in which we had significant investment. We discovered the value of establishing a system of recording our thought/debate processes both in order to i.) maintain, essentially, a "change log" but also to ii.) provide a system to keep energy high when our group critical examination of direction would test our energy. At the end of the day, we were excited and encouraged by how directly our willingness to push through iterative cycles and dwindling energy led to higher quality solutions.
Other Selected Works